University of Salford – November 6th
The annual Blackboard Education on Tour event is an opportunity to meet the people in Blackboard who are designing, developing and managing the product, and their team are keen to get our comments and ideas on where the product is going. It's an important exchange as it's one of the means by which we can have a direct influence on how Blackboard Learn develops, a recent example of this being the new workflows around anonymous and delegated marking for Assignments which we will see after our winter upgrade. It was good also to meet our new University of Liverpool client manager on the day, find out about their role and how they will be helping us in the future.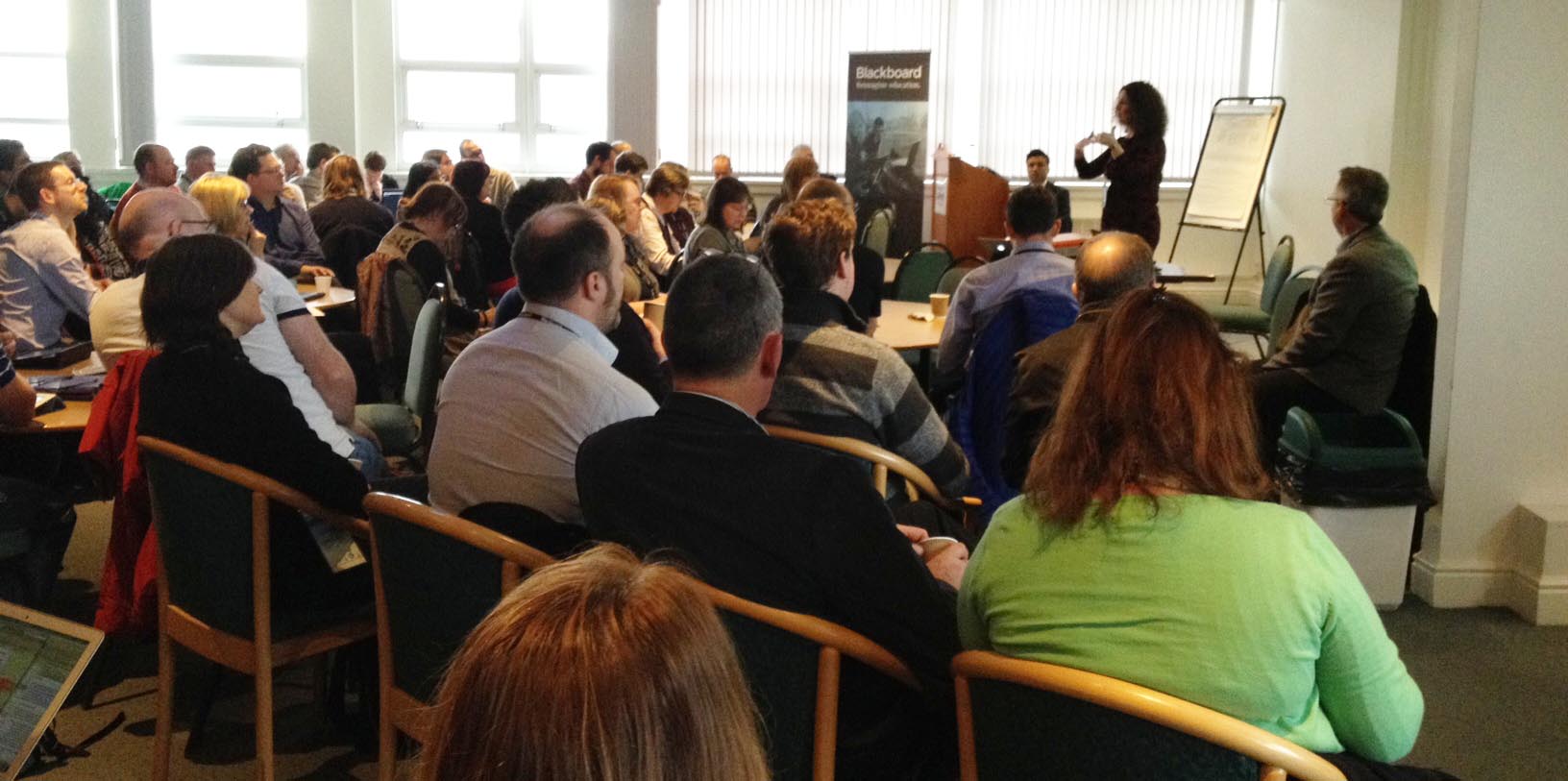 A major part of the day is that we also get to see what is on the near and far horizon in the Blackboard Learn environment (subject to the Blackboard forward-looking statement that this is not necessarily what they will implement) and this year the hubbub was all around what we saw of the first phase of a radically redesigned user interface: responsive, intuitive, simplified, social being the key development ideas I picked up from what I saw.
Blackboard have looked at the range of things you can currently do in Learn and focused on the main interactions, use cases and workflows and redesigned around making these as easy as possible. I've linked to some screenshots here of what we saw from Eric Silva's blog. Taking just a couple of examples, the homepage when you first log in is totally decluttered and now gives you selectable, cross-modular views of things like the latest key activity in your modules (new discussion board posts, content updates and so on), your grades, your profile…
…as well as the usual jumping-off list of your modules. In essence the current 'My Blackboard' global navigation menu (accessed from the upper right of your VITAL Blackboard screen) is enhanced and becomes the homepage. It means you can see and start working directly in modules where there is a notification of activity, for example going straight from the home page to a Discussion Board where there have been some recent posts.
The module space gets a total redesign. Navigation is simplified and there is a search box at the top of the screen so you can find specific content quickly. In the upper right of the page some icons link to key tools like the discussion board, calendar and messages. You can now instantly set up a discussion around any content or assessment item. And admin-wise course copy has been made amazingly easy at last.
This is only the first phase of re-developing Learn but what I have seen so far is very encouraging. It's a responsive design meaning it will adapt to any device and screen. We can get a look at a test version in January next year and we will certainly be doing that. As I have blogged previously, we can as an institution also contribute to the development and design of Learn directly via the Blackboard Ideas Exchange. There are different levels of commitment and we will look again at the possibility of getting involved in some way this year. It was useful on the day to find out that very few UK institutions have yet gone down this route and so Blackboard are looking into making it easier for us to take part.
Another offering which got the room enthused was an offline module tool for students where they can select resources to download and view on a laptop offline. When they next log in online they will be notified as to whether any of those resources have since been updated. Blackboard have been surprised and pleased to find that there is an appetite for this application in the UK and elsewhere as it could answer certain problems such as those experienced by students in remote, rural locations with poor connectivity, hospitals with strict internet access policies, and even where the VLE has to be taken offline for annual upgrades as an example so that students can still access key resources. A version of this is being made available soon and it will work as a browser applet.
During the rest of the day we had a look at a few other products from Blackboard which we don't currently have at Liverpool such as the Blackboard Collaborate (a tool for running online meetings and classrooms) and Blackboard Analytics. Analytics is a fairly new product and is intended to allow institutions to interrogate institutional data at scale for a whole range of purposes, one of those data sources being the activity in the VLE itself. There is a rapidly growing field of research interest around these kinds of 'learning analytics' and 'big data' and an example of such an application is the Learning Futures project at the University of Westminster, who are using Analytics for Blackboard Learn to help inform decisions they make about the future shape of learning and teaching. The University of Derby were also looking at Blackboard Analytics as a potential tool for helping them understand their online-only provision and the enagement and behaviours of this body of students whom they often never meet in person. Other applications suggested included dashboards of data for academic advisors bringing together data about students from multiple sources including the VLE dashboards of data, and students having dashboard views of this kind of data as well.
For the last part of the day I swapped over from the 'product development' sessions and attended a workshop on assessment practice with Blackboard Learn to pick up any useful advice from those who know the system best. All in all a very informative day from the Blackboard team – we're now looking forward to getting our hands on the trial version of Blackboard Ultra and 'giving the tyres a kick' as one of the Blackboard team put it. More updates on this to follow in the new year.
For some other reports on the day which have details on other aspects of the day have a read of:
http://learntechgalway.blogspot.co.uk/2014/11/blackboard-education-on-tour-comes-to.html
http://staffblogs.le.ac.uk/telsocsci/blackboard/blackboard-education-on-tour-2014/
Dan